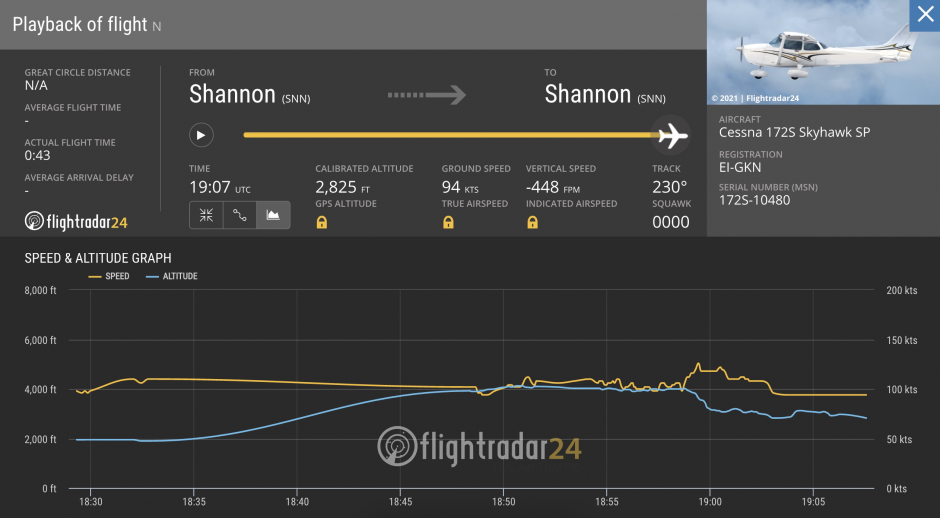 Sajnos az időjárás chart-ok nincsenek meg, csak a másnapi, az pedig kevésbé releváns itt. A lényeg az, hogy okklúziós front jött nyugat dél-nyugat irányból és a mi utunk bizony Cork-ból Shannon-ba tartott, ami a nyugati oldalán van Írországnak.
VFR repülési tervvel kezdtünk, de hamar igennel kellett válaszolni az irányítás második kérdésére, hogy akarunk -e váltani. Nem volt kérdés, muszáj volt, mert az út harmadán már masszív felhőkbe repültünk.
Zárójel: a műszeres repülés oktatásait VFR tervvel csináljuk, VFR időben is, hogy mindenkinek nagyobb legyen a mozgástere. Aztán vagy van szemfedő, vagy nincs (Covid miatt nincs).
Szóval ez egy olyan óra volt, ahol IFR szerint repültünk. Közeledve Shannon légteréhez átadtak minket, közöltük, hogy jöttünk műszeres megközelítést gyakorolni. Mondták, hogy gyertek – gyertek. Aztán kérdezték, hogy de biztos? Moderate Shower van. Az instruktor válaszolt, persze jövünk.
Megkérdezték pár perccel később még egyszer, mert durva eső volt, csökkenő látótávolság, szél és turbulencia. Oktató továbbra is azt mondta, hogy folytatjuk. Folytattuk.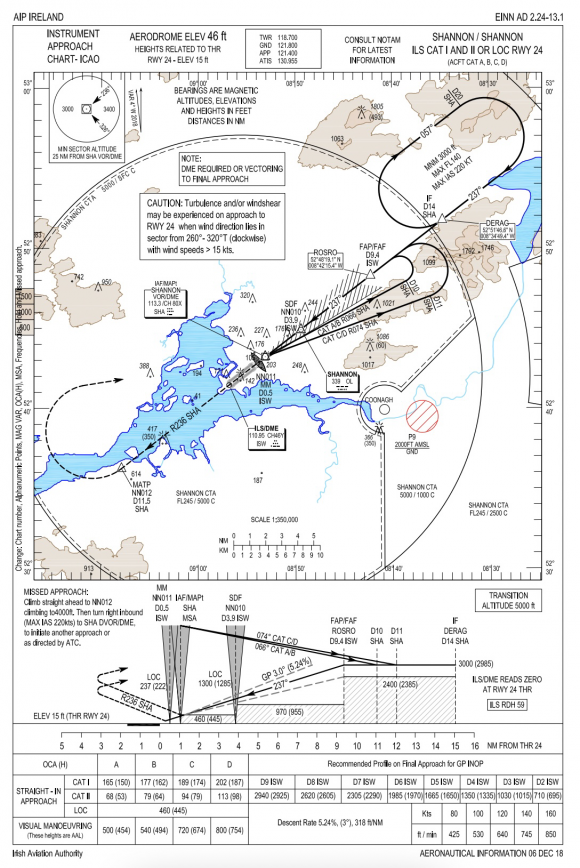 Beérve a zónába (Class C) kezdett fokozódni a helyzet. Irányt és magasságot már szinte képtelenség volt tartani. Lásd fenti kép 18:55-től. Ott kezdődött a hullámvasút. Minden volt, hirtelen megzuhanás, hirtelen emelés, hirtelen megdőlt a gép, aztán vissza. A szellőzőkön folyt be a víz. Bal kezemben a kormány, jobb kezemben az approach plate, ölemben a knee-board. Próbálom beállítani a megközelítést, brief-elni a plate-t. Közben törölgetem a karomról a vizet. Egészen apokaliptikus élmény volt.
Látni nyilván semmit. Egy szürkés felhő volt, napfény semmi, ami annyiból volt jó, hogy legalább nem vakított, mint a cuki fehér felhők. Ez morci felhő volt. Harmadszor is megkérdezték folytatjuk és harmadszor is mondta az instruktor, hogy jövünk biza.
Nem repültük le egyébként a teljes megközelítés, valahol fél úton csatlakoztattak be minket a kifelé irányba a forduló előtt. Innen már szép lassan elkezdett egyébként tisztulni, gyanítom ezért is küldtek a VOR helyett tőle jobbra, hogy hamarabb kerüljünk ki a sűrűjéből, ahonnan aztán süllyedtünk, és onnan már a felhők alá értünk. Esett nagyon, de már volt visual a pályával.
Az oktató órához felvitt debrief kommentjéből egy sort emelnék ki:
Decent effort at EINN route in real IMC
Hát így. Megvolt az első rendes IMC.
IMC: Instrument Meteorological Condition
VMC: Visual Meteorological Condition
VFR: Visual Flight Rules
IFR: Instrument Flight Rules
ILS: Instrument Landing System